Welcome to Your Place for Rock Chip & Auto Glass Repair

Complete glass repair

You'll get more than just auto glass repair. With our complete 9-step process, you'll effectively eliminate any trace of damage to your windshield or windows, keeping your view clear.
Installation for all models
You can choose from a wide variety of glass and glass patterns for your new or old car with our installation services. Your windshield is an important safety feature; maintain it with our O.E.M. certified material.
5 Star Auto Glass is an Oklahoma City Auto Glass Dealer That You Can Trust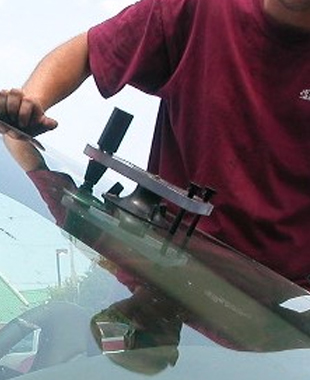 You can trust 5 Star Auto Glass to provide you with EXPERT, certified Glass Service. From repairing rock chips to replacing a vehicle or truck window, 5 Star will always provide you with the very best service and options. Because we are professionals, certified with OEM, you can rest assured that we will take care of your repair PROPERLY!
Trust us to know the right type of glass and the best way to repair your rock chip. We've not only been doing this for a while! (since 1991, we've been working with glass repair), but we study to keep up with the current types of glass in the newest models of vehicles. PLUS - we have the knowledge to even repair older models and makes. We've even repaired extremely curved glass!
Your Safety Is First: Safety Features of Your Windows
Did you know that your windshield and windows give additional strength to your vehicle? They are actually a part of your vehicle's safety system! Just like your seat belts and airbags help to protect you, so too do your vehicle windows. We urge you to have your window replaced or PROPERLY repaired in order to provide you and those traveling with you with the UTMOST protection.
Additionally, home-grown methods and do-it-yourself methods of rock chip repair may not actually help the stability and strength of your windshield or window! Our trained auto glass technicians know how to properly repair rock chips to BOTH protect the INTEGRITY of your window and the STRENGTH of your window. Have those rock chips repaired before the damage spreads and the entire window must be replaced!
Original Equipment Manufacturer Certified.

We are certified FROM THE MANUFACTURER to know what and how to repair your auto and truck windows. We have manuals, software, --- more in order -- to know EXACTLY how to and what to repair and/or replace your window.
When shopping for an auto and truck glass repair/replacement company, make certain you choose one that not only SAYS they are OEM Certified, but display this certification seal on their website and within their business.
---